Fish Filleting / Shellfish Preparation Course £125.00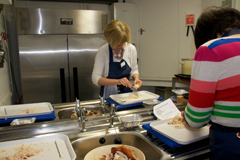 This course is designed for those that want to take a more hands on approach to food preparation in their own kitchen. The day involves filleting, scaling, pin-boning and skinning  both a round and flat fish as well as preparing one item of shellfish. I firmly believe people that can both prepare and cook their food not only have a greater understanding of the ingredients that they are using, but also make better cooks. We will also prepare a dish between us from some of the fish and shellfish that we have prepared earlier in the day to sit down to a light lunch.
Typical Fish and Shellfish that you may be working with subject to availability and seasons.
Sea Bass - Dorade Bream - Trout - Mackerel - Tiger Prawns - Scollops - Plaice - Lemonsole - Salmon - lobster - Crab - Oysters plus many more.......
You will have plenty of goodies to take home from this course so bring your freezer bag, all fish will be vacumn sealed for you ready for the freezer. 
Shellfish Cookery Course £125.00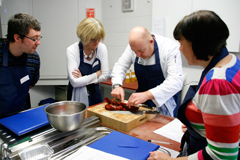 Introduction to shellfish
Fish and Shellfish is one of the quickest and healthiest foods to cook!!
This course is part hands on and part demonstration there will be a maximum of 4 people per course

The course is designed for people who want to expand there repertoire of both working and cooking with fish and shellfish, as well as the absolute beginner. We will show you just how quick and easy it is to put a meal together when using shellfish as the main ingredient along with using every part of your ingredients to the maximum. It is also a proven fact of the health benefits you will gain from having more fish & shellfish in yours and your family's diet. By the end of this course I can guarantee that you will go away and have the confidence to both cook a meal that includes shellfish, as well as knowing how to make the most out of your ingredients.
A typical Course includes the following (menu's subject to change)
Make fish stock for the bisque
Cooking Lobster
Dress a Crab
Peel and devein king prawns and butterfly ready to cook
Split lobsters & remove the meat
Thai Crab Cakes
Make crab cocktails with the meat from the crab topped of with Lobster
Shellfish bisque (made using the prawn & crab shells)
Typical Lunch Menu (will vary from course to course)
Crab cocktail topped with lobster
Shellfish Bisque with king prawns and lobster
Before you depart we will sit and have some lunch together eating what we have prepared in the morning with a glass of wine to recap on what we have done that day
Hopefully you will leave with the confidence to not only cook meals for your family that include shellfish but also have the confidence to do so when entertaining at home.
Paella and Tapas Cookery Course £125.00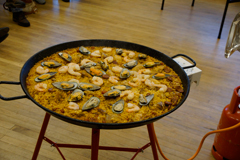 Ever wondered how to make the perfect Paella, if so then this is the course for you. We will work on and prepare all of the ingredients that go into making a Paella one to remember, from the sauce to the stock along with preparing all of the main ingredients which could be anything from pawns to squid. We will also make some really simple tapas that can be served as part of any Spanish themed dinner party, and to wash it all down we will make the perfect Sangria.
Typical ingredients that you will prepare on this course
Squid - Prawns - Mussels - Scollops - Fillet some kind of fish - Make the perfect stock from scratch, this is a really important part of any rice based dish - Make a Sofrito which forms the base of so many Spanish dishes and again is a big ingredient in Paella - And to wash it all down we will make the perfect Sangria.
Once you have done this course you will be hosting your own Paella parties all year round, it is the perfect dish to share and can virtually be cooked within 20 minutes as long as all of the important prep work has been done in advance.
Thai Cookery Course £125.00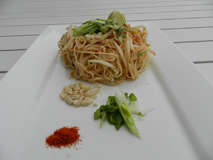 Learn how to cook some real authentic thai food, on this course you will learn all about what makes thai food so flavoursome and easy to cook. Most of the work that goes into Thai cookery is in the preparation, as most of the cooking is really quick. We will prepare all of our own fish and shellfish for any dish that we cook on the day.
Typical Dishes
Red Curry Paste
Green Curry Paste
Green Curry
Red Curry
Thai Fish Cakes
Tiger Prawn Fire Crackers
Pad Thai
Seafood Soup with Coconut Cream
Salads
Puddings
We will prepare and cook at least two of the above dishes as well as a pudding, which we will sit down and eat through the course of the day.